Education for the 21st Century
British Columbia has one of the best education systems in the world. Teachers are skilled, facilities are sound, and students are performing near the top of international assessments. Yet it is an education system modelled on the very different circumstances of an earlier century — when change was much more gradual than it is today. Conditions in the world are changing greatly and rapidly. Today's students will grow into a world that is very different from and more connected than that of generations before.
To maintain high achievement, British Columbia must transform its education system to one that better engages students in their own learning and fosters the skills and competencies students will need to succeed. One focus for this transformation is a curriculum that enables and supports increasingly personalized learning, through quality teaching and learning, flexibility and choice, and high standards.
To guide the transformation, the province conducted reviews of trends in national and international jurisdictions and invited authorities on curriculum and assessment design to advise on proposed changes. In addition, as part of the work on core competencies, several commissioned researchers summarized the literature in critical thinking, creative thinking, and social and personal responsibility.
The transformation process is well underway, with K-9 curricula fully implemented. Grade 10 curricula's implementation began with the 2018-19 school year, followed by grades 11 and 12 curricula being implemented in the 2019-20 school year.
Image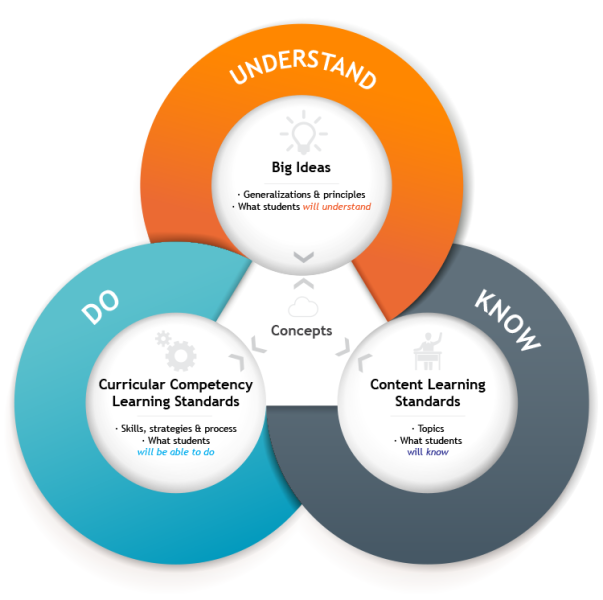 All areas of learning are based on a "Know-Do-Understand" model to support a concept-based competency-driven approach to learning. Three elements, the Content (Know), Curricular Competencies (Do), and Big Ideas (Understand), all work together to support deeper learning. British Columbia's curriculum design enables a personalized, flexible and innovative approach at all levels of the education system. All areas of learning have been redesigned using this model.
Content (Know)
The Content learning standards — the "Know" of the Know-Do-Understand model of learning — detail the essential topics and knowledge at each grade level.
Curricular Competencies (Do)
The Curricular Competencies are the skills, strategies, and processes that students develop over time. They reflect the "Do" in the Know-Do-Understand model of learning. While Curricular Competencies are more subject-specific, they are connected to the Core Competencies.
Big Ideas (Understand)
The Big Ideas consist of generalizations and principles and the key concepts important in an area of learning. They reflect the "Understand" component of the Know-Do-Understand model of learning.The big ideas represent what students will understand at the completion of the curriculum for their grade. They are intended to endure beyond a single grade and contribute to future understanding.